When it comes to addiction, one of the things we have to be realistic about is the possibility of overdosing. This is a very real concern especially with the overdose emergency of opioids going on today. In the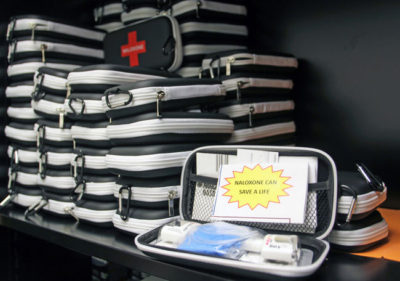 community, there are Naloxone kits available to you and your family free of charge to prevent the loss of life. These are called Naloxone kits.
These kits are made to save lives and now in Kelowna are free to the public, if you or a loved one is dealing with opioid addiction this is something you will want to look in to. While it may seem scary or difficult to express a need for these kits, it is a necessity for many of us today.
Naloxone is a medication that when administered can reverse the effect of an overdose caused by: all opioids including morphine, fetanyl, heroin and methadone.) Naloxone works by pushing the opioids out of the opiates receptors in a person's brain. While the medications will reverse the effects immediately, more treatment may be needed.
Currently this medication is available to individuals for free through specific sites. These sites are able to provide the kits to anyone who is at risk themselves for overdosing or are at risk of being around, seeing, experiencing someone overdose on opioids. This medication is used as an emergency treatment option, but does not negate the need for follow up treatment. There are agencies in Kelowna such as: The Crossing Point and Valiant Recovery. If you or a family member needs ongoing addiction treatment, these are great options for you to seek out.
If you are worried about yourself or a family member, you can visit this site to find out the closest site where you can obtain your free Naloxone kit – http://towardtheheart.com/site-locator There are currently 5 sites in the Kelowna area that offer Naloxone kits to the public. There is the Kelowna Health Unit, Outreach Urban Health, Kelowna's Gospel Mission, Inn from the Cold and Alexandra Gardner Safe Centre.
Information for the 5 sites is as follows:
Kelowna Health Unit – 1340 Ellis St., Kelowna, V1Y 9N1
Outreach Urban Health – 455 Leon Ave, Kelowna, V1Y 6J4
Kelowna's Gospel Mission – 251 Leon Ave, Kelowna V1Y 6J1
Inn from the Cold – 1829 Chandler St., Kelowna V1Y 3Z2
Alexandra Gardner Safe Centre – 2609 Richter St., Kelowna, V1Y 2R3
Please remember when using Naloxone, it can bring a person's breathing back and reverse the effects of the overdose. However, the person may still need to get to a doctor or emergency room. Lastly it is important to understand that more than 1 dose of Naloxone may be needed to revive a person after an overdose.